A St. Petersburg court has ruled in favor of blocking Children-404, an online support group for LGBT Russian teens, the group's leader Elena Klimova said today on the Russian social network VKontakte.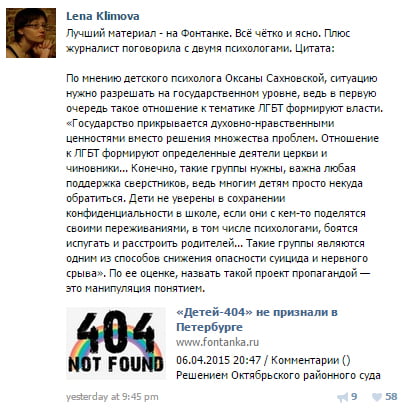 The founders of Children-404  aimed to provide a safe space for teenagers in the country to discuss LGBT issues and support each other. The name of the support group references the country's censorship of LGBT+ culture in relation to the famous '404 – Page not found' internet error.
"Russia's anti-LGBT 'propaganda' law is fundamentally discriminatory and violates freedom of expression," said Tanya Cooper, Russia researcher at Human Rights Watch. "The prosecutor's office should immediately withdraw the lawsuit against Deti 404."
Deti 404, or Children 404, is an online support group for LGBT children to discuss violence and harassment they face at school and home and receive help. It is one of the last safe places to which LGBT children in Russia can turn for advice. Deti 404 has almost 50,000 followers on Vkontakte, Russia's largest social networking site.
Maria Kozlovskaya, a lawyer with the Russian LGBT Network, told Human Rights Watch that the Saint Petersburg prosecutor's office filed the lawsuit as a means to have Deti 404's website and its group page on Vkontakte blocked.
"Klimova finds herself, like many other Russian human rights activists, locked in a legal battle with the state rather than devoting all of her energy to helping LGBT children get access to information, justice, and equality."