A gay conversion conference due to be held in London has been scrapped after a change.org petition received over 40,000 signatures calling for the government to refuse visas to the guest speakers and have the event cancelled.
The 'Holy Sexuality Conference' was scheduled to be held over a five-day period and would see members of a Christian group and people claiming  to have been cured of being gay help others 'heal their sexuality'.
The church holding the event planned to bring three speakers from the US (Mike Carducci, Danielle Harrison & Wayne Blakely) to share their experiences, beginning 21 April.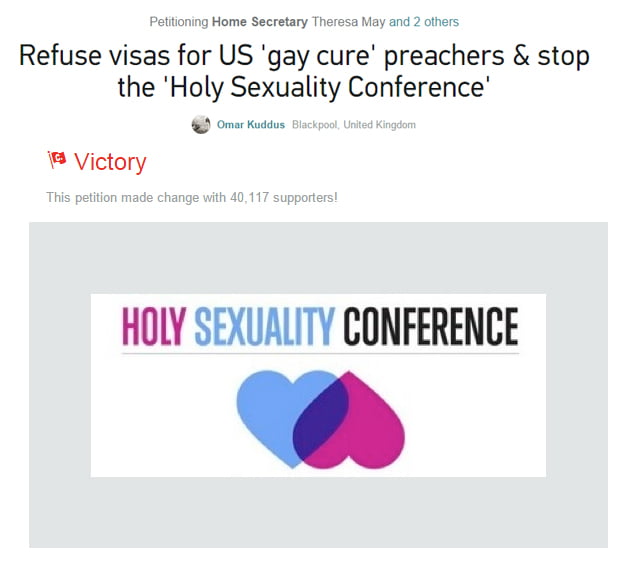 Unsurprisingly, the event cause controversy and an on-line backlash followed, which then started the petition to cancel the event.
After receiving an estimated figure of 43,000 signatures in only 18 hours the church decided to stop the 'Holy Sexuality Conference' as they had recognised the event had the 'power to divide'. The church released a statement regarding the cancellation saying;
"Seventh-day Adventists are a people of peace who believe in hope and dialogue. However, it appeared that rather than drawing people together the conference had the potential to divide. The Adventist Church recognises that the individuals invited to speak at the Holy Sexuality Conference have compelling life stories to share but equally appreciate that there are those who take a different point of view. We are disappointed that in a society that values freedom of speech and divergence of opinion that there are those whose wish it is to silence individuals who hold a different point of view to their own."
Deputy Prime Minister Nick Clegg also had his fair share of opinions in a recent Q&A, saying the event was 'grossly offensive' and 'dangerous nonsense'. Nick Clegg finished by saying, ""If anything needs curing, it is the outdated belief that being gay is wrong or something to be ashamed of. Sexuality is not an illness but an inherent part of who you are."