A 27-year-old transgender man is leading a contest to be on the cover of Men's Health magazine. Transgender vlogger and activist Aydian Dowling currently has close to twice as many votes as the runner up following a worldwide outpouring of support.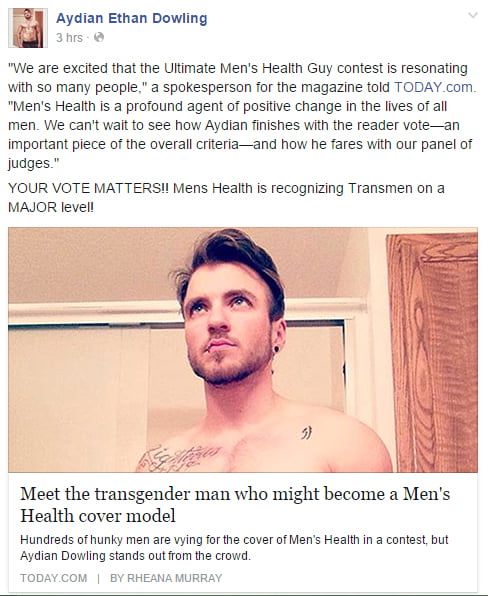 A recent Tumblr post with a link to his Men's Health page has been shared more than 110,000 times. And a YouTube video in which he takes viewers through his four years taking testosterone has been seen more than 250,000 times.
"It's crazy," the New York native, told PEOPLE Magazine. "It's phenomenal, the amount of support it's gotten – how many people have re-Tweeted and re-blogged and re-posted and liked and shared and commented and voted."
"I think I would have laughed if someone said that in five years I was going to be in a competition to be on the cover of Men's Health magazine," says Dowling. "I would be like, 'No way would you be putting me shirtless on a magazine!'"
The Ultimate Guy Search website states that it aims to find "a guy who is fit and fearless, a doer who gives back and leads by example" to be featured on the fitness mag's November cover.  Men's Health magazine states that it has a combined audience of more than 13 million readers, who are mostly men of average age 40.
On his Twitter page, Dowling, who now resides in Ohio describes himself as: "An entrepreneur, owner and creator of Point 5cc Clothing, a vlogger, a motivational speaker, an artist, and an advocate for Transgender rights."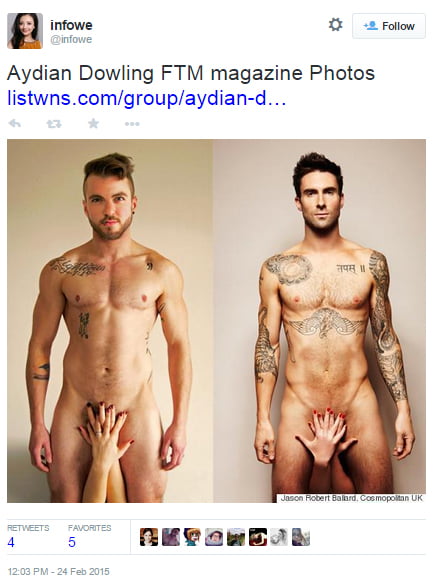 Earlier this year in February a photo of Dowling went viral. In collaboration with FTM Magazine, a publication for the trans-masculine community, Dowling recreated the famous picture of Maroon 5's frontman Adam Levine posing naked.
Anyone with a Facebook account can vote in the contest once per day until the contest ends on June 21, 2015.
"It's sad and scary to think that even if I place #1 in this competition it's a possibility that they may just say we're not letting you compete," Dowling said, speaking to Fusion magazine from his home in Eugene, Oregon.
So far that hasn't been the case.
Contestants were asked to send up to 3 photographs as well as answer 4 questions in 100 words or less. You can check out Aydian's answers below:
How do you stay fit and healthy? Why is it important to you?
The way I enjoy to stay fit and healthy is keeping with a body-building style routine, as well as some light cardio on my normal every day. On days "off" I love to go with my wife, Jenilee, out on hikes around the Pacific North West. Although I also love my day to day routines, smashing through thresholds and sculpting the body, there is nothing quite like the beauty being outside can do to a person. I have always explored this sense of discovery and drive through hiking that is unlike anything in the gym or the track.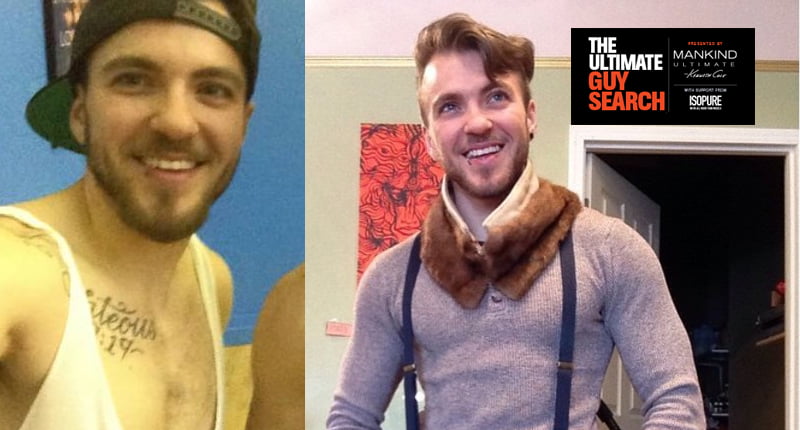 How do you maintain a healthy lifestyle? How has that lifestyle helped you overcome challenges in your life?
I maintain a healthy lifestyle by making sure my life is in a balance. Just like you eat foods in a balance I do my absolute best to keep my mental mind in connection to my body so they can grow healthy together. The battle that can come with the mirror can be completely dark and engulfing. As a Transgender Male, having a healthy body and mind is my ultimate goal to find peace within my soul. Although I may always have some kind of battle with my body, I continue to work every day for a happy peace within.
How do you give back to your community/friends/family?
Giving back is a large part of my life. I started the first YouTube Collaboration BeefHeads Fitness, a channel geared towards Transgender Individuals looking to get fit and healthy. Also, I run multiple groups, Instagram accounts, and other social media platforms encouraging mental and physical health reaching over 45K combined. On a more local platform I did start training other Transgender Males here in my new town of Eugene, OR. They have greatly progressed and I feel very proud to see their self-confidence grow. I do nothing but support them and show technique, but drive is contagious!
How do you measure success? Have you achieved it?
Measuring success on paper is very difficult. As you change so will your view of the word "accomplishment". I like to measure success in a feeling, it is much more attainable. I feel success when I hit a new PR, when my wife smiles from the heart, when someone tells me I helped in their life someway, or when someone close to me has done something amazing. That is when I feel success. That is when my "achievement" is rewarded. Success is a feeling I hope to have over and over again.
There is still a rigorous and lengthy process ahead for each of the contestants but TGS will support Aydian every step of the way. You can find out more information on the remaining stages of the competition here.