After a week of tough challenges and a fantastic final show the 21 year old "milk technician" from Germany took the title of Mr Gay World 2015 at this year's final in South Africa.
First runner up is Mr Gay Hong Kong.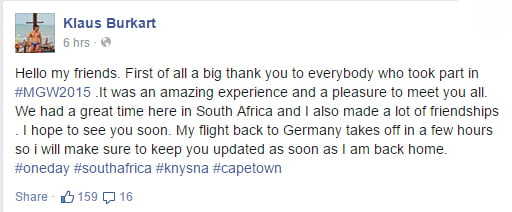 Burkart says he would like to be a role model and spokesperson for young gay men all over the world.
Klaus told GayNZ.com that he wants to help change attitudes to homosexuality and "lead the world to a point where it is not essential to even have a coming out."
The new Mr Gay World is also planning on tackling bullying and homophobia in schools.
He says he is planning a campaign to visit schools and talk about how to avoid bullying and gay bashing.
"It is my dream to share my campaign with the delegates and supporters from all over the world. I would really like to work together with them to create similar campaigns adapted for their own countries."
On the judging panel were Luiz De Barros (South Africa: Editor of LGBT website mambaonline.com), Kevin Mc Dermott (USA: world renowned photographer), Frank Malaba (Zimbabwe: actor, playwright and activist), Ricardo Amunjera (Namibia: Mr Gay Namibia, 3rd runner up Mr Gay World 2013), Stuart Hatton (UK: Mr Gay World 2014), Eric Butter (Australia and Republic of El Salvador: President of Mr Gay World) and Head Judge Andrew Creagh (Australia: Editor of DNA magazine).
Stuart Hatton from the UK brought the title home in 2014 when the dance teacher from South Shields was crowned Mr Gay World at the competition in Italy last year.
The 2015 Mr Gay World Top five: Iceland, Belgium, Finland, Germany, Hong Kong
Special Award winners
Art Challenge – Zambia
Mr Photogenic – Spain
Sport – Sweden
Social Media – Belgium
Written Test – Germany
National Costume – Mexico
People's Choice – Malta
Swimwear – Australia
Congeniality – Colombia
Fashion – Spain
Click here to check out Klaus on Facebook
---
Mr Gay World 2015 promo video: