An estimated 10-20 thousand people descended onto the streets of Belfast city centre this afternoon to show their support for introducing marriage equality to Northern Ireland.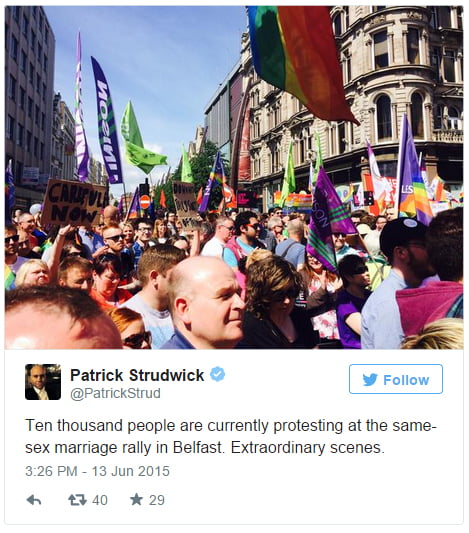 The crowds, including some recognisable faces such as Snow Patrol's Gary Lightbody, gathered outside the University of Ulster Art College near Saint Anne's Cathedral before marching to Belfast City Hall earlier today.
Many coaches also arrived from locations across the North and South of Ireland and beyond to support the march and rally which was jointly organised by The Rainbow Project, Amnesty International and The Irish Congress of Trade Unions.
Last month's historic referendum on marriage equality in the South has propelled Northern Ireland's own marriage equality ambitions.  The sensational landslide victory for equality in the Republic of Ireland has motivated even more people to get involved in standing up for their rights.
Furthermore people are coming to the realisation that Northern Ireland is now isolated in Western Europe for its total disregard for the rights of LGBT+ citizens.
Backing for marriage equality is at an all time high in the province. A recent Belfast Telegraph poll put support for the legislation at as a high as 85%, Tyrone based newspaper The Ulster Herald found  support was as high as 84.1%.
Amnesty International was one of the organisers of the march.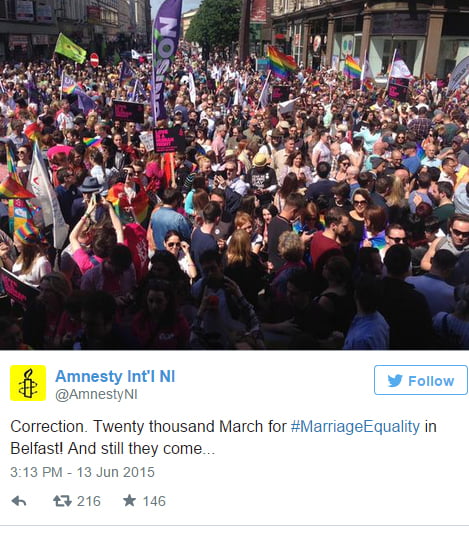 Northern Ireland Programme Director for the organisation, Patrick Corrigan, said:
"Northern Ireland is now the last bastion of discrimination against gay people in these islands.
"Northern Ireland's discriminatory laws are a badge of shame – not to be worn by the people of Northern Ireland, a majority of whom support same-sex marriage, but by those politicians who oppose equal treatment for the LGBTI community.
"The Northern Ireland Executive should waste no more time in fulfilling its first duty to its people – to ensure that none are treated as second-class citizens."
He continued: "People in Northern Ireland are sick of living in a discriminatory backwater for gay people.
"Most people here want to live in a country where such discrimination is consigned to the dustbin of history.
"They want to live in a place where all citizens are guaranteed equal rights and equal opportunities – that's the message of the march for equality."
It could now be left to the courts to bring the North up to date with the rest of Ireland and the UK after a gay Northern Irish couple, who recently got married in England, launched a legal effort in January to have their marriage recognised in the North.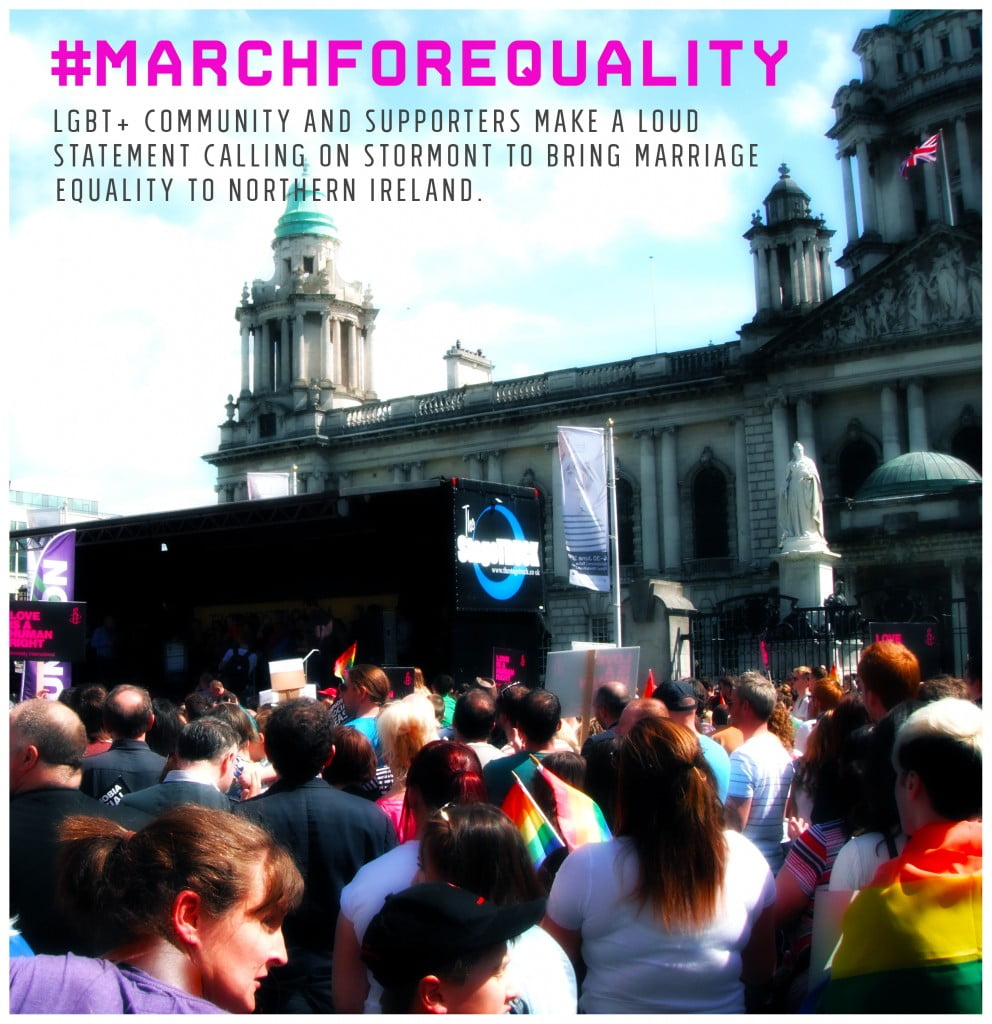 Unionists  have also rejected several proposals from Stormont Deputy First Minister Martin McGuinness earlier this year to hold a referendum on the issue similar to the Republic.
The Northern Ireland Assembly rejected a motion calling for the introduction of gay marriage, after debating the issue for a fourth time earlier this year. The DUP have used a petition of concern to veto the vote each and every time to ensure the result is a forgone conclusion.
Current celebrity supporters of the campaign include Olympic boxer Paddy Barnes, singers Brian Kennedy, Gary Lightbody and Bronagh Gallagher and actress Nuala McKeever.
Singer Bronagh Gallagher, supported by Quire, Belfast's LGBT choir, performed at Belfast City Hall after the march.