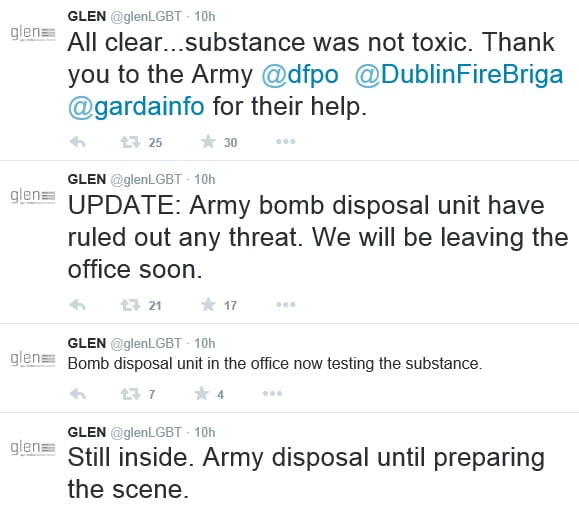 A suspicious package sent to the offices of the Gay and Lesbian Equality Network (GLEN) in Dublin city centre on Thursday turned out to be a hoax but resulted in a significant security operation being put into place.
The Garda, Dublin Fire Brigade and the Army's bomb disposal team were called to GLEN's office on Exchange Street Upper, Dublin 8, when a parcel arrived in the morning post with blue powder inside.
Emergency crew donned specialised hazmat suits before entering the building.
It also included a handwritten note saying "goodbye". The emergency services were alerted immediately.
The building was evacuated and a busy area of Dublin sealed off before the package could be properly examined and tested for biological, chemical and hazardous materials.
The operation continued for five hours until the powder was declared a hoax and the area reopened.
GLEN, in a post on its Twitter account, said the response of the emergency services had been "terrific".
The charity tweeted pictures throughout the response. Six fire engines and a bomb disposal team were involved on site.
Tiernan Brady of GLEN told The Journal: "The intent was to terrorise – no matter what was in the envelope.
"We've never had this before and the goal was to scare us and inflict terror."
Sinn Féin councillor and chair of its LGBT group Chris Curran said: "Irish people resoundingly supported LGBT rights in the referendum last month and this type of incident has no place in our society.
"I call on the Gardaí to fully investigate this threat and to take the necessary precautions to ensure that the Pride Parade and associated celebrations go ahead without further incident."
GLEN is one of Ireland's largest gay rights groups, and was instrumental in calling for a 'Yes' vote in last month's same-sex marriage referendum.
---
GLEN is a Policy and Strategy focused NGO which aims to deliver ambitious and positive change for lesbian, gay and bisexual people (LGB) in Ireland, ensuring full equality, inclusion and protection from all forms of discrimination.
GLEN has been instrumental in achieving a range of legislative and policy change including: decriminalisation in 1993; recognition of sexual orientation in refugee law in 1996; inclusion in Employment Equality in 1998; Equal Status in 2000; comprehensive Civil Partnership in 2010 and most recently full civil marriage equality in May 2015.
GLEN focuses on delivering change across a series of areas: legal recognition, protection and support for LGB relationships and families; education; mental health and well-being; physical and sexual health; workplace equality and community capacity development.
For further information on the organisation visit www.glen.ie