A Christian Institute petition calling on people to support Ashers Baking Company has amassed only 9,000 signatures, ahead of today's court appeal.
The limited amount of support gathered for the campaign reflects just how limited support for Ashers Bakery is within the wider Christian community. The campaign has been pushed tirelessly through the Institute's social media page and by other high profile Christian institute backers. However despite having over 30,000 likes on their Facebook page and having utilised innumerable avenues to drum up interest in their #supportashers campaign, the petition has achieved only limited support.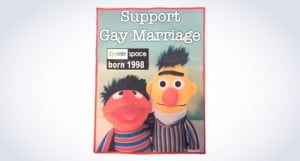 In contrast, other pro-equal rights and anti-homophobia petitions calling for an end to the conscience clause proposals and another calling for Jim Wells to resign after his disgraceful remarks last year stretched into the tens of thousands and received considerable international support and backing from high profile human rights and equality campaigners.
Supporters of Ashers, which refused to make the cake on the grounds it conflicted with their religious beliefs, have welcomed leading gay campaigner Peter Tatchell's change of heart on the controversy. The veteran activist this week stepped away from his former criticism of the bakers' stance to one of support for their freedom of speech and conscience.
Although Peter Thatchell has added his two pence to the argument it appears his views are not reflected amongst other gay rights activists and campaigners in Northern Ireland. The Gay Say is encouraging people to get in touch with Peter Tatchell to present their views on his Ashers stance. So far the equal rights campaigner has avoided directly answering and properly elaborating on his points when we contacted him.
During the original trial, Ashers legal representatives insisted the problem was with the message on the cake, not the customer.
But Mr Lee explained to the court that he was left feeling like a lesser person when his order was turned down.
Although the County Court judge accepted Ashers was entitled to have "genuine and deeply held" religious views, she said the business was not above the law.
The Court of Appeal will determine whether the judge was correct in law to hold that Ashers discriminated against Mr Lee on grounds of sexual orientation and religious belief or political opinion.
Earlier this week bakery owner Daniel McArthur said that court case had strengthened his faith and his marriage with wife Amy.