Belfast-born ex-Irish president Mary McAleese has said LGBTI people are still at risk from those who are mustering the forces of "last-stand resistance" to equality.
The former president was The Rainbow Project's 2016 Tolerantia Laureate and Guest of Honour at the 2016 Tolerantia awards in Titanic Belfast last night.
During a speech at the ceremony, Mrs McAleese said:
"I am now a grandmother to two very small boys. I want them to grow up in peace and in a fair and decent world where the entire architecture of homophobia and of anti-LGBTI attitudes and practices has been completely dismantled and consigned to history.
"That will not happen by chance but by change."
The former head of state explained how she believed Ireland's Yes vote to marriage equality last year had sent out a powerful signal of goodness and decency to the rest of the world.
"The remarkable success of the Irish referendum on same sex marriage back last year in May of 2015 was of course a landmark in the history of LGBTI rights.
"For me as a Christian and a member of the Roman Catholic denomination it was without a shadow of a doubt the single most grace-filled moment I have ever experienced in my life. It seemed to me that pure decency, pure goodness and pure love flooded the land."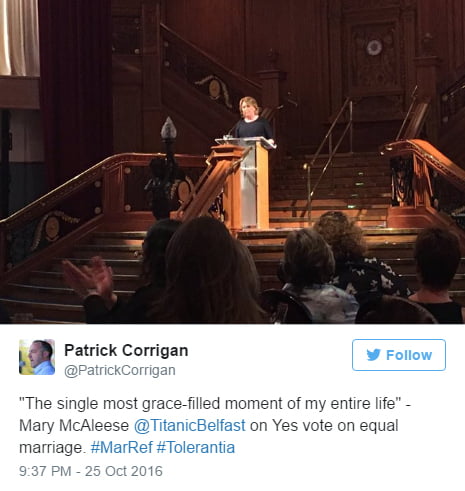 Mrs McAleese said that gay rights campaigners were making history but still had much work to do.
"You are turning the tide of hurt and hatred, country by country, culture by culture, heart by heart.
"It is helping our world to experience the liberating joy that comes from taking down the edifice of homophobia brick by brick, the bricks of tradition, doctrine, dogma, beliefs, attitudes, practices and laws.
"Only when that edifice has crumbled like the walls of Jericho will we vindicate the generations of countless LGBTI men and women, whose lives were only half-lived and whose dreams of acceptance and full equality were never realised."
She said: "It is important also to remember where we are at historically in the dismantling of the architecture of homophobia.
"It is global in its reach. It has a still unyielding grip on many minds, on so many influential institutions, on entire religions and faith systems, on governments, on cultures, on laws, on attitudes. Even in the most accepting of places, it can make life tough, it can make life intolerable for many and in the least accepting it can put lives on the line.
Mrs McAleese said LGBTI people were still vulnerable to being damaged by those resisting changes in equality laws and expressed concern for the mental health repercussions of this damage.
"I have met them and listened to them, the ministers, the priests, the amateur and the professional psychologists, the doctors, the therapists, the politicians and the theologians who preach and practice this snake-oil conversion or reparative therapy.
"They need to be challenged for they are inflicting damage in and through therapy centres, clinics, seminaries, lecture theatres, conferences and all the other places where they are insidiously peddling their wares."
"Even as we are sitting here they are doing their damage and will continue to damage the LGBTI children who will be born today and tomorrow. Our job is to make sure that those children are not vulnerable in the way that past generations were.
"In March of this year I launched the LGBT Ireland report on the mental health of the LGBTI community and it tells a very important and really rather distressing story. Despite our evident progress, toxic levels of homophobia are still doing ongoing damage. Levels of stress, anxiety, depression, self-harm and suicide among the LGBTI community, particularly young males between the ages of 15 and 25, are unacceptably high by comparison to their heterosexual peers."