The Democratic Unionist Party can no longer abuse the parliamentary veto known as the "petition of concern" to veto marriage equality in the Northern Ireland Assembly.
The DUP used to be the only party big enough to trigger this veto mechanism without the support from another party. You need 30 votes to do that; they now only have 28.
29 could have still have resulted in a veto of marriage equality legislation with support from Jim Allister, the Assembly's sole Traditional Unionist Voice (TUV) MLA, who has spoken of his willingness to sign any petition that would block changes to marriage or abortion laws.
Although the DUP is still the biggest party, the results mean completely new ground for Northern Ireland and could offer hope for the LGBT community here.
Patrick Corrigan from Amnesty International NI has estimated that almost two thirds (57/90) of newly elected MLAs are in support of equal marriage legislation.
Leader of the Ulster Unionist Party, Mike Nesbitt, resigned from his position because of  the his party's poor election performance and it is unclear whether the new leadership of the UUP will support members signing petitions of concern in order to block marriage equality. The UUP's position on equal marriage under Mike Nesbitt's leadership was that it was a "matter of personal conscience". Mike Nesbitt had previously acknowledged same-sex marriage opponents to be "on the wrong side of history"  and had abstained from voting on the last motion because it had been "rendered meaningless" by a petition of concern.
Though the currently-leaderless UUP includes some members who support equality, East Antrim UUP MLA Roy Beggs has now suggested he too may join a veto effort.
Speaking to the Sunday Life he said: "I am against gay marriage and that is still the case.
"Nobody is sure what rules may apply for a petition of concern or if there will even be an Assembly, nobody knows. Where do we go from here?
"But if the petition of concern is there, I will sign it.
"I wouldn't be honouring the people who voted for me if I voted any differently because I have spoken openly in the past about my views on the matter."
With support from Roy Beggs and Jim Allister the DUP would achieve the 30 signatures required to trigger the parliamentary veto.
Speaking to UTV Live at the weekend Clare Bailey from the Green Party in Northern Ireland said that MLAs are already working on a cross party Private Members Bill to introduce equal marriage as soon as possible.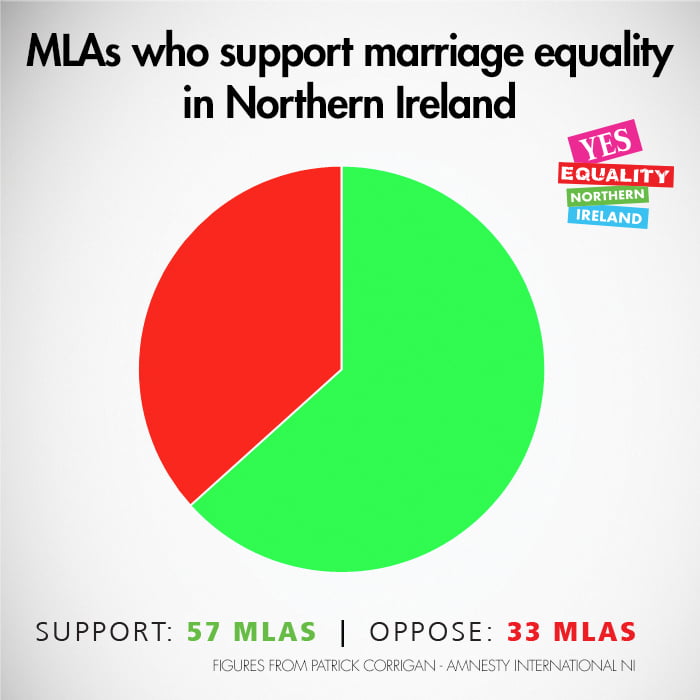 Sinn Féin and the DUP must now begin negotiations to form a power-sharing executive, which will be challenging given the escalation of tensions between the two parties.
Former Northern Ireland secretary Theresa Villiers said parties should be given more time to agree a new powersharing deal.
She told BBC Radio Four's Today programme: "The law at the moment requires a fresh election after three weeks if there is no coalition formed. And so I think it will be important for the secretary of state to have legislation ready to give the parties more time.
"I think it would be a pity if they were launched back into yet another election just after three weeks."
The full breakdown of seats from the Northern Ireland Assembly Election 2017 (from a total of 90) is as follows:
DUP: 28
Sinn Féin: 27
SDLP: 12
UUP: 10
Alliance Party: 8
Green Party: 2
Traditional Unionist Voice: 1
Independent: 1